I'm not sure if this has already been done (surely it has) but I thought it'd be pretty cool to do a movie recommendation post. At first I wasn't sure how to recommend movies to anyone, then I thought of doing it in an a-z list. That way it's a bit different and I can't recommended hundreds of movies (because I definitely would).
Anyways, the way this post works is pretty self explanatory. I'm going to be recommending 26 movies in a list that's organised by their titles. If you don't quite understand you will more as I continue!
For each movie I'm going to do something similar to what I did with my eBooks I Want To Read post. I'll be getting all the synopsis' from IMDB. Mainly because I suck at writing reviews and I'd probably be a little bit biased in said reviews!
Note: I'm excluding "a" and "the" from the titles! – Also, all of the below movies are horror/thriller because that's my favourite genre and I really don't watch many other genres! I might do another post in the future will a list of all genres!
# – 28 Days Later (2002)
Four weeks after a mysterious, incurable virus spreads throughout the UK, a handful of survivors try to find sanctuary.

A – The Amityville Horror (1979)
Newlyweds move into a large house where a mass murder was committed, and experience strange manifestations which drive them away.

B – Black Swan (2010)
A committed dancer wins the lead role in a production of Tchaikovsky's "Swan Lake" only to find herself struggling to maintain her sanity.

C – Child's Play (1998)
A single mother gives her son a much sought after doll for his birthday, only to discover that it is possessed by the soul of a serial killer.

D – Dr. Jekyll and Mr. Hyde (1931)
Dr. Jekyll faces horrible consequences when he lets his dark side run wild with a potion that transforms him into the animalistic Mr. Hyde.

E – Edward Scissorhands (1990)
A gentle man, with scissors for hands, is brought into a new community after living in isolation.

F – Final Destination (2000)
After a teenager has a terrifying vision of him and his friends dying in a plane crash, he prevents the accident only to have Death hunt them down, one by one.

G – Gothika (2003)
A repressed female psychiatrist wakes up as a patient in the asylum where she worked, with no memory of why she is there or what she has done.

H – Halloween (1978)
On Halloween night of 1963, 6-year old Michael Myers stabbed his sister to death. After sitting in a mental hospital for 15 years, Myers escapes and returns to Haddonfield to kill.

I – I Know What You Did Last Summer (1997)
Four teens are in great danger one year after their car hits a stranger whose body they dump in the sea.
J – Jaws (1975)
When a gigantic great white shark begins to menace the small island community of Amity, a police chief, a marine scientist and a grizzled fisherman set out to stop it.

K – King Kong (1976)
A petroleum exploration expedition comes to an isolated island and encounters a colossal giant gorilla.

L – Let the Right One In (2008)
Oskar, an overlooked and bullied boy, finds love and revenge through Eli, a beautiful but peculiar girl.

M – Maggie (2015)
A teenage girl in the Midwest becomes infected by an outbreak of a disease that slowly turns the infected into cannibalistic zombies. During her transformation, her loving father stays by her side.

N – Nightmare On Elm Street (1984)
Several people are hunted by a cruel serial killer who kills his victims in their dreams. While the survivors are trying to find the reason for being chosen, the murderer won't lose any chance to kill them as soon as they fall asleep.

O – Orphan (2009)
A husband and wife who recently lost their baby adopt a 9-year-old girl who is not nearly as innocent as she claims to be.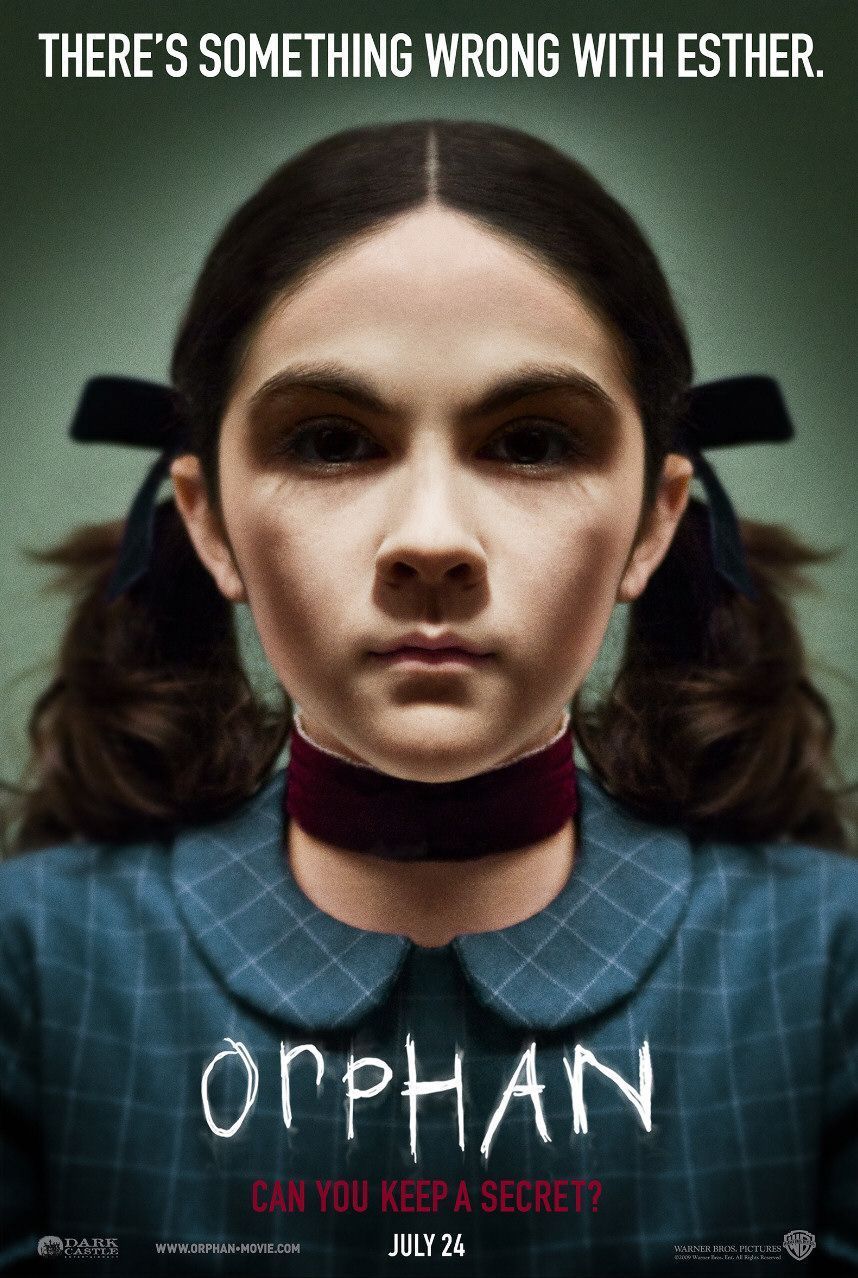 P – Psycho (1960)
A Phoenix secretary steals $40,000 from her employer's client, goes on the run and checks into a remote motel run by a young man under the domination of his mother.

Q – Quarantine (2008)
A television reporter and her cameraman are trapped inside a building quarantined by the CDC, after the outbreak of a mysterious virus which turns humans into bloodthirsty killers.

R – Rosemary's Baby (1968)
A young couple move into an apartment, only to be surrounded by peculiar neighbors and occurrences. When the wife becomes mysteriously pregnant, paranoia over the safety of her unborn child begins to control her life.

S – Silence Of The Lambs (1991)
A young F.B.I. cadet must confide in an incarcerated and manipulative killer to receive his help on catching another serial killer who skins his victims.

S #2 (I couldn't choose one, so I'm adding both) – Saw (2004)
Two strangers awaken in a room with no recollection of how they got there or why, and soon discover they are pawns in a deadly game perpetrated by a notorious serial killer.

T – The Texas Chain Saw Massacre (1974)
Two siblings visit their grandfather's grave in Texas along with three of their friends and are attacked by a family of cannibalistic psychopaths.

U – Underworld (2003)
Selene, a beautiful warrior, is entrenched in a war between the vampire and werewolf races. Although she is aligned with the vampires, she falls in love with Michael, a human who is sought by werewolves for unknown reasons.

V – Vampire Academy (2014)
Rose Hathaway is a Dhampir, half human-half vampire, a guardian of the Moroi, peaceful, mortal vampires living discreetly within our world. Her calling is to protect the Moroi from bloodthirsty, immortal Vampires, the Strigoi.

W – Warm Bodies (2013)
After a highly unusual zombie saves a still-living girl from an attack, the two form a relationship that sets in motion events that might transform the entire lifeless world.

X – Xenobites (2008)
After the fifth war, the crime rate rises over five hundred percent. Law enforcement is replaced by xenobites: psychotic demons that execute justice in deadly ways. Icarus Van Clader, a private investigator and former criminal in the underworld, is hired to retrieve a mysterious tape that puts him at war with xenobites and the Yakuza.

Y – You're Next (2011)
When the Davison family comes under attack during their wedding anniversary getaway, the gang of mysterious killers soon learns that one of the victims harbors a secret talent for fighting back.

Z – Zodiac (2007)
A San Francisco cartoonist becomes an amateur detective obsessed with tracking down the Zodiac killer.

Which movie from this list do you want to watch?