This post is pretty much the same as last weeks post except we're talking about books instead of movies!
Below is a list of my favourite books that are set in a Winter time period and/or feature a Winter setting.
Note: all the reviews in this post have been taken from Goodreads. If you'd like to view the Goodreads profile for each book click the title of said book!
A Christmas Carol by Charles Dickens
Scrooge, the most miserly of all misers, is shown the true meaning of Christmas by four ghostly visitors – his partner Marley, and the ghosts of Christmas Past, Christmas Present and Christmas Yet To Come.
By Christmas day, he has learnt his lesson and is willing to enter into the spirit of things.
Joan Collins retells the story 'in simple language'.

Winter Garden by Kristin Hannah
From the author of the smash-hit bestseller Firefly Lane and True Colors comes a powerful, heartbreaking novel that illuminates the intricate mother-daughter bond and explores the enduring links between the present and the past.
Meredith and Nina Whitson are as different as sisters can be. One stayed at home to raise her children and manage the family apple orchard: the other followed a dream and traveled the world to become a famous photojournalist. But when their beloved father falls ill, Meredith and Nina find themselves together again, standing alongside their cold, disapproving mother, Anya, who even now, offers no comfort to her daughters. As children, the only connection between them was the Russian fairy tale Anya sometimes told the girls at night. On his deathbed, their father extracts a promise from the women in his life: the fairy tale will be told one last time – and all the way to the end. Thus begins an unexpected journey into the truth of Anya's life in war-torn Leningrad, more than five decades ago. Alternating between the past and present, Meredith and Nina will finally hear the singular, harrowing story of their mother's life, and what they learn is a secret so terrible and terrifying that it will shake the very foundation of their family and change who they believe they are.

A Game of Thrones by George R.R. Martin
Summers span decades. Winter can last a lifetime. And the struggle for the Iron Throne has begun.
As Warden of the north, Lord Eddard Stark counts it a curse when King Robert bestows on him the office of the Hand. His honour weighs him down at court where a true man does what he will, not what he must … and a dead enemy is a thing of beauty.
The old gods have no power in the south, Stark's family is split and there is treachery at court. Worse, the vengeance-mad heir of the deposed Dragon King has grown to maturity in exile in the Free Cities. He claims the Iron Throne.

The Goldfinch by Donna Tartt
It begins with a boy. Theo Decker, a thirteen-year-old New Yorker, miraculously survives an accident that kills his mother. Abandoned by his father, Theo is taken in by the family of a wealthy friend. Bewildered by his strange new home on Park Avenue, disturbed by schoolmates who don't know how to talk to him, and tormented above all by his unbearable longing for his mother, he clings to one thing that reminds him of her: a small, mysteriously captivating painting that ultimately draws Theo into the underworld of art.
As an adult, Theo moves silkily between the drawing rooms of the rich and the dusty labyrinth of an antiques store where he works. He is alienated and in love-and at the center of a narrowing, ever more dangerous circle.
The Goldfinch combines vivid characters, mesmerizing language, and suspense, while plumbing with a philosopher's calm the deepest mysteries of love, identity, and art. It is an old-fashioned story of loss and obsession, survival and self-invention, and the ruthless machinations of fate.

The Snow Child by Eowyn Ivey
Alaska, 1920: a brutal place to homestead and especially tough for recent arrivals Jack and Mabel. Childless, they are drifting apart–he breaking under the weight of the work of the farm, she crumbling from loneliness and despair. In a moment of levity during the season's first snowfall, they build a child out of snow. The next morning, the snow child is gone–but they glimpse a young, blonde-haired girl running through the trees. This little girl, who calls herself Faina, seems to be a child of the woods. She hunts with a red fox at her side, skims lightly across the snow, and somehow survives alone in the Alaskan wilderness. As Jack and Mabel struggle to understand this child who could have stepped from the pages of a fairy tale, they come to love her as their own daughter. But in this beautiful, violent place things are rarely as they appear, and what they eventually learn about Faina will transform all of them.

Let It Snow by Maureen Johnson, John Green and Lauren Myracle
The New York Times bestseller!
Sparkling white snowdrifts, beautiful presents wrapped in ribbons, and multicolored lights glittering in the night through the falling snow. A Christmas Eve snowstorm transforms one small town into a romantic haven, the kind you see only in movies. Well, kinda. After all, a cold and wet hike from a stranded train through the middle of nowhere would not normally end with a delicious kiss from a charming stranger. And no one would think that a trip to the Waffle House through four feet of snow would lead to love with an old friend. Or that the way back to true love begins with a painfully early morning shift at Starbucks. Thanks to three of today's bestselling teen authors—John Green, Maureen Johnson, and Lauren Myracle—the magic of the holidays shines on these hilarious and charming interconnected tales of love, romance, and breathtaking kisses.
"Tender without being mushy, these carefully crafted stories of believable teen love will leave readers warm inside for the holidays."—School Library Journal
"Contemporary culture, humorous romantic developments and strong characters enhance this collaborative effort."—Kirkus Reviews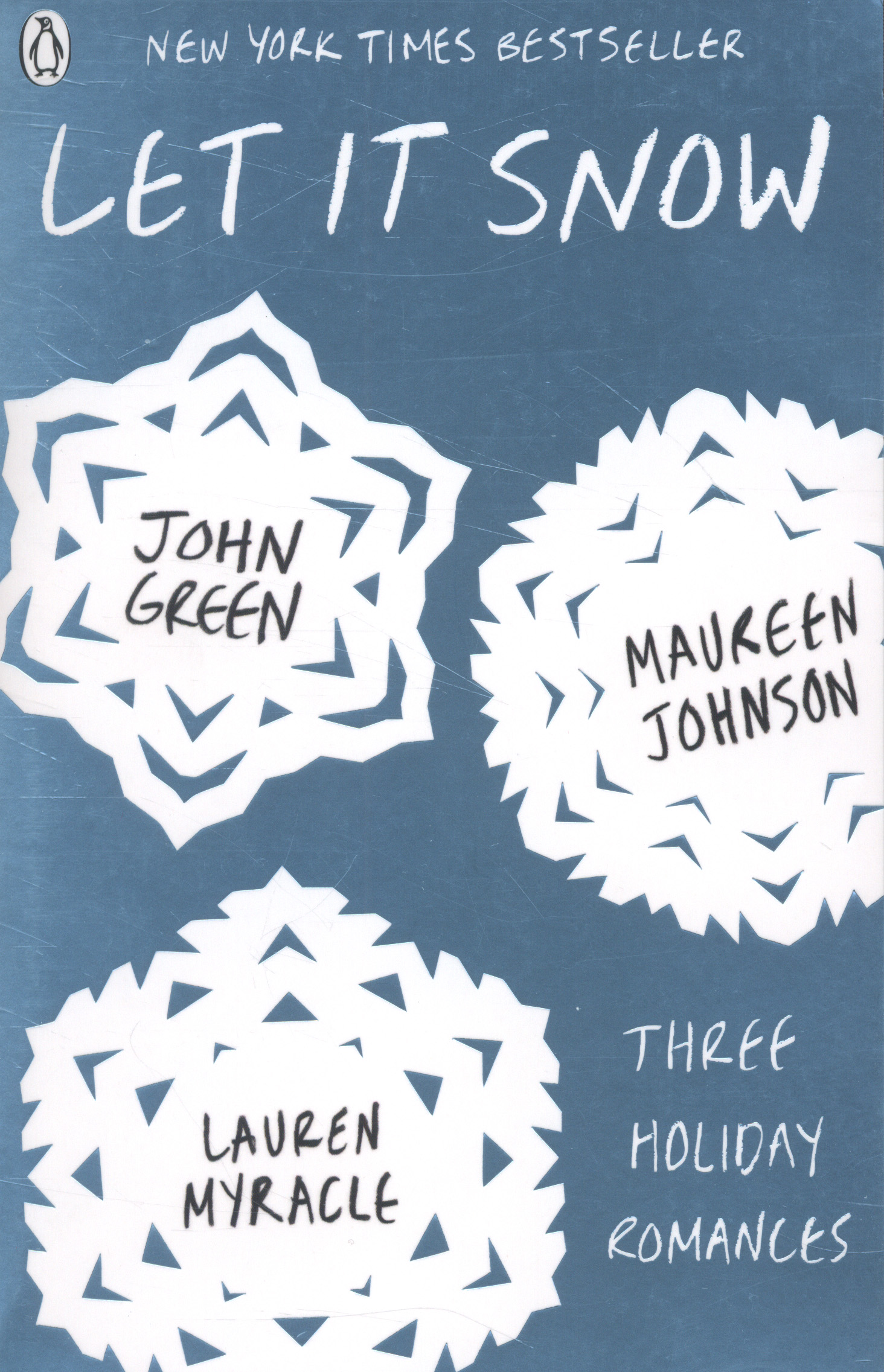 The Shining by Stephen King
I know I put this in my Movies To Watch In Winter post but it's an incredible book so it's on this list too!
Danny was only five years old but in the words of old Mr Halloran he was a 'shiner', aglow with psychic voltage. When his father became caretaker of the Overlook Hotel his visions grew frighteningly out of control.
As winter closed in and blizzards cut them off, the hotel seemed to develop a life of its own. It was meant to be empty, but who was the lady in Room 217, and who were the masked guests going up and down in the elevator? And why did the hedges shaped like animals seem so alive?
Somewhere, somehow there was an evil force in the hotel – and that too had begun to shine..

Winter Solstice by Rosamunde Pilcher
Her captivating bestseller of loss and the healing power of love now re-issued with a stunning new jacket look. Elfrida Phipps loves her new life in the pretty Hampshire village. She has a tiny cottage, her faithful dog Horace and the friendship of the neighbouring Blundells – particularly Oscar – to ensure that her days include companionship as well as independence. But an unforeseen tragedy upsets Elfrida's tranquillity: Oscar's wife and daughter are killed in a terrible car crash and he finds himself homeless when his stepchildren claim their dead mother's inheritance. Oscar and Elfrida take refuge in a rambling house in Scotland which becomes a magnet for various waifs and strays who converge upon it, including an unhappy teenage girl. It could be a recipe for disaster. But somehow the Christmas season weaves its magical spell and for Elfrida and Oscar, in the evening of their lives, the winter solstice brings love and solace.

The Long Winter by Laura Ingalls Wilder
The town of De Smet is hit with terrible, howling blizzards and Laura and her family must ration their food and coal. When the supply train doesn't arrive, Almanzo Wilder and his brother realize something must be done. They begin an impossible journey in search of provisions, before it's too late.

A Reliable Wife by Robert Goolrick
Rural Wisconsin, 1909. In the bitter cold, Ralph Truitt, a successful businessman, stands alone on a train platform waiting for the woman who answered his newspaper advertisement for "a reliable wife." But when Catherine Land steps off the train from Chicago, she's not the "simple, honest woman" that Ralph is expecting. She is both complex and devious, haunted by a terrible past and motivated by greed. Her plan is simple: she will win this man's devotion, and then, ever so slowly, she will poison him and leave Wisconsin a wealthy widow. What she has not counted on, though, is that Truitt a passionate man with his own dark secrets has plans of his own for his new wife. Isolated on a remote estate and imprisoned by relentless snow, the story of Ralph and Catherine unfolds in unimaginable ways.
With echoes of "Wuthering Heights" and "Rebecca," Robert Goolrick's intoxicating debut novel delivers a classic tale of suspenseful seduction, set in a world that seems to have gone temporarily off its axis.

The Ice Harvest by Scott Phillips
As lawyer Charlie Arglist prepares to leave Wichita, Kansas, with a suitcase full of stolen money, he revisits the scenes of his past–his angry ex-wife, ex-lovers, cops on the take, and bars filled with secrets that others will do anything to hide.

Smilla's Sense of Snow by Peter Høeg
She thinks more highly of snow and ice than she does of love.  She lives in a world of numbers, science and memories–a dark, exotic stranger in a strange land.  And now Smilla Jaspersen is convinced she has uncovered a shattering crime…
It happened in the Copenhagen snow.  A six-year-old boy, a Greenlander like Smilla, fell to his death from the top of his apartment building.  While the boy's body is still warm, the police pronounce his death an accident. But Smilla knows her young neighbor didn't fall from the roof on his own.  Soon she is following a path of clues as clear to her as footsteps in the snow.  For her dead neighbor, and for herself, she must embark on a harrowing journey of lies, revelation and violence that will take her back to the world of ice and snow from which she comes, where an explosive secret waits beneath the ice…

The Ice Schooner by Michael Moorcock
Ice odyssey. The world lay frozen under a thousand feet of ice – and only in the Eight Cities of the Matto Grosso did men still live, hunting the wary ice whales for meat and oil, following the creed of the Ice Mother which foretold the end of all life in ultimate cold.
But legend told of a city far to the north – fabled New York – whose towers rose above the ice, whose crypts held the forgotten lore that might bring warmth to Earth once again. And, in the best ice ship in the Eight Cities, Konrad Arflane embarked on the impossible voyage to New York – an odyssey of incredible peril and adventure…with a shattering discovery at journey's end!

Have you read any of these books?