A few weeks ago I did an A-Z List Of Horror Movie Recommendations post, this week we're doing the same thing, but for books! If you don't understand how this post works, check out the movie one I did!
A – All The Bright Places by Jennifer Niven
Theodore Finch is fascinated by death, and he constantly thinks of ways he might kill himself. But each time, something good, no matter how small, stops him.
Violet Markey lives for the future, counting the days until graduation, when she can escape her Indiana town and her aching grief in the wake of her sister's recent death.
When Finch and Violet meet on the ledge of the bell tower at school, it's unclear who saves whom. And when they pair up on a project to discover the "natural wonders" of their state, both Finch and Violet make more important discoveries: It's only with Violet that Finch can be himself—a weird, funny, live-out-loud guy who's not such a freak after all. And it's only with Finch that Violet can forget to count away the days and start living them. But as Violet's world grows, Finch's begins to shrink.

B – The Book Thief by Markus Zusak
It's just a small story really, about among other things: a girl, some words, an accordionist, some fanatical Germans, a Jewish fist-fighter, and quite a lot of thievery. . . .
Set during World War II in Germany, Markus Zusak's groundbreaking new novel is the story of Liesel Meminger, a foster girl living outside of Munich. Liesel scratches out a meager existence for herself by stealing when she encounters something she can't resist–books. With the help of her accordion-playing foster father, she learns to read and shares her stolen books with her neighbors during bombing raids as well as with the Jewish man hidden in her basement before he is marched to Dachau.
This is an unforgettable story about the ability of books to feed the soul.

C – The Coldest Girl in Coldtown by Holly Black
Tana lives in a world where walled cities called Coldtowns exist. In them, quarantined monsters and humans mingle in a decadently bloody mix of predator and prey. The only problem is, once you pass through Coldtown's gates, you can never leave.
One morning, after a perfectly ordinary party, Tana wakes up surrounded by corpses. The only other survivors of this massacre are her exasperatingly endearing ex-boyfriend, infected and on the edge, and a mysterious boy burdened with a terrible secret. Shaken and determined, Tana enters a race against the clock to save the three of them the only way she knows how: by going straight to the wicked, opulent heart of Coldtown itself.
The Coldest Girl in Coldtown is a wholly original story of rage and revenge, of guilt and horror, and of love and loathing from bestselling and acclaimed author Holly Black.

D – Divergent by Veronica Roth
In Beatrice Prior's dystopian Chicago world, society is divided into five factions, each dedicated to the cultivation of a particular virtue—Candor (the honest), Abnegation (the selfless), Dauntless (the brave), Amity (the peaceful), and Erudite (the intelligent). On an appointed day of every year, all sixteen-year-olds must select the faction to which they will devote the rest of their lives. For Beatrice, the decision is between staying with her family and being who she really is—she can't have both. So she makes a choice that surprises everyone, including herself.
During the highly competitive initiation that follows, Beatrice renames herself Tris and struggles alongside her fellow initiates to live out the choice they have made. Together they must undergo extreme physical tests of endurance and intense psychological simulations, some with devastating consequences. As initiation transforms them all, Tris must determine who her friends really are—and where, exactly, a romance with a sometimes fascinating, sometimes exasperating boy fits into the life she's chosen. But Tris also has a secret, one she's kept hidden from everyone because she's been warned it can mean death. And as she discovers unrest and growing conflict that threaten to unravel her seemingly perfect society, she also learns that her secret might help her save those she loves . . . or it might destroy her.

E – Eleanor and Park by Rainbow Rowell
Two misfits.
One extraordinary love.
Eleanor… Red hair, wrong clothes. Standing behind him until he turns his head. Lying beside him until he wakes up. Making everyone else seem drabber and flatter and never good enough…Eleanor.
Park… He knows she'll love a song before he plays it for her. He laughs at her jokes before she ever gets to the punch line. There's a place on his chest, just below his throat, that makes her want to keep promises…Park.
Set over the course of one school year, this is the story of two star-crossed sixteen-year-olds—smart enough to know that first love almost never lasts, but brave and desperate enough to try.

F – Firstlife by Gena Showalter
ONE CHOICE.
TWO REALMS.
NO SECOND CHANCE.
Tenley "Ten" Lockwood is an average seventeen-year-old girl…who has spent the past thirteen months locked inside the Prynne Asylum. The reason? Not her obsession with numbers, but her refusal to let her parents choose where she'll live—after she dies.
There is an eternal truth most of the world has come to accept: Firstlife is merely a dress rehearsal, and real life begins after death.
In the Everlife, two realms are in power: Troika and Myriad, longtime enemies and deadly rivals. Both will do anything to recruit Ten, including sending their top Laborers to lure her to their side. Soon, Ten finds herself on the run, caught in a wild tug-of-war between the two realms who will do anything to win the right to her soul. Who can she trust? And what if the realm she's drawn to isn't home to the boy she's falling for? She just has to stay alive long enough to make a decision…

G – The Girl with the Dragon Tattoo by Stieg Larsson
Forty years ago, Harriet Vanger disappeared from a family gathering on the island owned and inhabited by the powerful Vanger clan. Her body was never found, yet her uncle is convinced it was murder – and that the killer is a member of his own tightly knit but dysfunctional family.
He employs disgraced financial journalist Mikael Blomkvist and the tattooed, truculent computer hacker Lisbeth Salander to investigate. When the pair link Harriet's disappearance to a number of grotesque murders from forty years ago, they begin to unravel a dark and appalling family history. But the Vangers are a secretive clan, and Blomkvist and Salander are about to find out just how far they are prepared to go to protect themselves.

H – Humans of New York by Brandon Stanton
A beautiful, heartfelt, funny and inspiring collection of photographs capturing the spirit of a city.
In the summer of 2010, photographer Brandon Stanton set out on an ambitious project: to single-handedly create a photographic census of New York City. Armed with his camera, he began crisscrossing the city, covering thousands of miles on foot, all in an attempt to capture New Yorkers and their stories. The result of these efforts was a vibrant blog he called "Humans of New York," in which his photos were featured alongside quotes and anecdotes.
Humans of New York is the book inspired by the Internet sensation. With four hundred color photos, including exclusive portraits and all-new stories, Humans of New York is a stunning collection of images that showcases the outsized personalities of New York.
Surprising and moving, Humans of New York is a celebration of individuality and a tribute to the spirit of the city.

I – I Let You Go by Clare Mackintosh
In a split second, Jenna Gray's world descends into a nightmare. Her only hope of moving on is to walk away from everything she knows to start afresh. Desperate to escape, Jenna moves to a remote cottage on the Welsh coast, but she is haunted by her fears, her grief and her memories of a cruel November night that changed her life forever.
Slowly, Jenna begins to glimpse the potential for happiness in her future. But her past is about to catch up with her, and the consequences will be devastating . . .

J – Jaws by Peter Benchley
"Relentless terror…" ~The Philadelphia Inquirer.
The classic, blockbuster thriller of man-eating terror that inspired the Steven Spielberg movie and made millions of beach goers afraid to go into the water. Experience the thrill of helpless horror again — or for the first time!

K – Killed at the Whim of a Hat by Colin Cotterill
The launch of a brand new series by the internationally bestselling, critically acclaimed author of 'The Coroner's Lunch.
With worldwide critical acclaim, Colin Cotterill is one of the most highly regarded "cult favorite" crime writers today. Now, with this new series, Cotterill is poised to break into the mainstream. Set in present day rural Thailand, Cotterill is as sharp and witty, yet more engaging and charming, than ever before.
Jimm Juree was a crime reporter for the 'Chiang Mai Daily Mail' with a somewhat eccentric family—a mother who might be drifting mentally; a grandfather—a retired cop—who rarely talks; a younger brother obsessed with body-building, and a transgendered, former beauty pageant queen, former older brother. When Jimm is forced to follow her family to a rural village on the coast of Southern Thailand, she's convinced her career—maybe her life—is over.
So when a van containing the skeletal remains of two hippies, one of them wearing a hat, is inexplicably unearthed in a local farmer's field, Jimm is thrilled. Shortly thereafter an abbot at a local Buddhist temple is viciously murdered, with the temple's monk and nun the only suspects.
Suddenly Jimm's new life becomes somewhat more promising—and a lot more deadly. And if Jimm is to make the most of this opportunity, and unravel the mysteries that underlie these inexplicable events, it will take luck, perseverance, and the help of her entire family.

L – Lord of the Flies by William Golding
William Golding's compelling story about a group of very ordinary small boys marooned on a coral island has become a modern classic. At first, it seems as though it's all going to be great fun; but the fun before long becomes furious & life on the island turns into a nightmare of panic & death. As ordinary standards of behavior collapse, the whole world the boys know collapses with them—the world of cricket & homework & adventure stories—& another world is revealed beneath, primitive & terrible. Lord of the Flies remains as provocative today as when it was 1st published in 1954, igniting passionate debate with its startling, brutal portrait of human nature. Though critically acclaimed, it was largely ignored upon its initial publication. Yet soon it became a cult favorite among both students and literary critics who compared it to J.D. Salinger's The Catcher in the Rye in its influence on modern thought & literature. Labeled a parable, an allegory, a myth, a morality tale, a parody, a political treatise, even a vision of the apocalypse, Lord of the Flies has established itself as a classic.

M – Miss Peregrine's Home for Peculiar Children by Ransom Riggs
A mysterious island. An abandoned orphanage. A strange collection of curious photographs.
A horrific family tragedy sets sixteen-year-old Jacob journeying to a remote island off the coast of Wales, where he discovers the crumbling ruins of Miss Peregrine's Home for Peculiar Children. As Jacob explores its abandoned bedrooms and hallways, it becomes clear that the children were more than just peculiar. They may have been dangerous. They may have been quarantined on a deserted island for good reason. And somehow—impossible though it seems—they may still be alive.
A spine-tingling fantasy illustrated with haunting vintage photography, Miss Peregrine's Home for Peculiar Children will delight adults, teens, and anyone who relishes an adventure in the shadows.

N – Never Let Me Go by Kazuo Ishiguro
As children, Kathy, Ruth, and Tommy were students at Hailsham, an exclusive boarding school secluded in the English countryside. It was a place of mercurial cliques and mysterious rules where teachers were constantly reminding their charges of how special they were. Now, years later, Kathy is a young woman. Ruth and Tommy have reentered her life, and for the first time she is beginning to look back at their shared past and understand just what it is that makes them special—and how that gift will shape the rest of their time together.

O – Oliver Twist by Charles Dickens
'Let him feel that he is one of us; once fill his mind with the idea that he has been a thief, and he's ours, – ours for his life!'
The story of the orphan Oliver, who runs away from the workhouse only to be taken in by a den of thieves, shocked readers when it was first published. Dickens's tale of childhood innocence beset by evil depicts the dark criminal underworld of a London peopled by vivid and memorable characters — the arch-villain Fagin, the artful Dodger, the menacing Bill Sikes and the prostitute Nancy. Combining elements of Gothic Romance, the Newgate Novel and popular melodrama, in Oliver Twist Dickens created an entirely new kind of fiction, scathing in its indictment of a cruel society, and pervaded by an unforgettable sense of threat and mystery.
This is the first critical edition to use the serial text of 1837-9, presenting Oliver Twist as it appeared to its earliest readers. It includes Dickens's 1841 introduction and 1850 preface, the original illustrations and a glossary of contemporary slang.

P – Pride and Prejudice and Zombies by Jane Austen & Seth Grahame-Smith
"It is a truth universally acknowledged that a zombie in possession of brains must be in want of more brains."
So begins Pride and Prejudice and Zombies, an expanded edition of the beloved Jane Austen novel featuring all-new scenes of bone-crunching zombie mayhem. As our story opens, a mysterious plague has fallen upon the quiet English village of Meryton—and the dead are returning to life! Feisty heroine Elizabeth Bennet is determined to wipe out the zombie menace, but she's soon distracted by the arrival of the haughty and arrogant Mr. Darcy. What ensues is a delightful comedy of manners with plenty of civilized sparring between the two young lovers—and even more violent sparring on the blood-soaked battlefield. Can Elizabeth vanquish the spawn of Satan? And overcome the social prejudices of the class-conscious landed gentry? Complete with romance, heartbreak, swordfights, cannibalism, and thousands of rotting corpses, Pride and Prejudice and Zombies transforms a masterpiece of world literature into something you'd actually want to read.

Q – Quiet: The Power of Introverts in a World That Can't Stop Talking by Susan Cain
At least one-third of the people we know are introverts. They are the ones who prefer listening to speaking, reading to partying; who innovate and create but dislike self-promotion; who favor working on their own over brainstorming in teams. Although they are often labeled "quiet," it is to introverts that we owe many of the great contributions to society–from van Gogh's sunflowers to the invention of the personal computer.
Passionately argued, impressively researched, and filled with indelible stories of real people, Quiet shows how dramatically we undervalue introverts, and how much we lose in doing so. Taking the reader on a journey from Dale Carnegie's birthplace to Harvard Business School, from a Tony Robbins seminar to an evangelical megachurch, Susan Cain charts the rise of the Extrovert Ideal in the twentieth century and explores its far-reaching effects. She talks to Asian-American students who feel alienated from the brash, backslapping atmosphere of American schools. She questions the dominant values of American business culture, where forced collaboration can stand in the way of innovation, and where the leadership potential of introverts is often overlooked. And she draws on cutting-edge research in psychology and neuroscience to reveal the surprising differences between extroverts and introverts.
Perhaps most inspiring, she introduces us to successful introverts–from a witty, high-octane public speaker who recharges in solitude after his talks, to a record-breaking salesman who quietly taps into the power of questions. Finally, she offers invaluable advice on everything from how to better negotiate differences in introvert-extrovert relationships to how to empower an introverted child to when it makes sense to be a "pretend extrovert."
This extraordinary book has the power to permanently change how we see introverts and, equally important, how introverts see themselves.

R – Red Queen by Victoria Aveyard
This is a world divided by blood – red or silver.
The Reds are commoners, ruled by a Silver elite in possession of god-like superpowers. And to Mare Barrow, a seventeen-year-old Red girl from the poverty-stricken Stilts, it seems like nothing will ever change.
That is, until she finds herself working in the Silver Palace. Here, surrounded by the people she hates the most, Mare discovers that, despite her red blood, she possesses a deadly power of her own. One that threatens to destroy the balance of power.
Fearful of Mare's potential, the Silvers hide her in plain view, declaring her a long-lost Silver princess, now engaged to a Silver prince. Despite knowing that one misstep would mean her death, Mare works silently to help the Red Guard, a militant resistance group, and bring down the Silver regime.
But this is a world of betrayal and lies, and Mare has entered a dangerous dance – Reds against Silvers, prince against prince, and Mare against her own heart …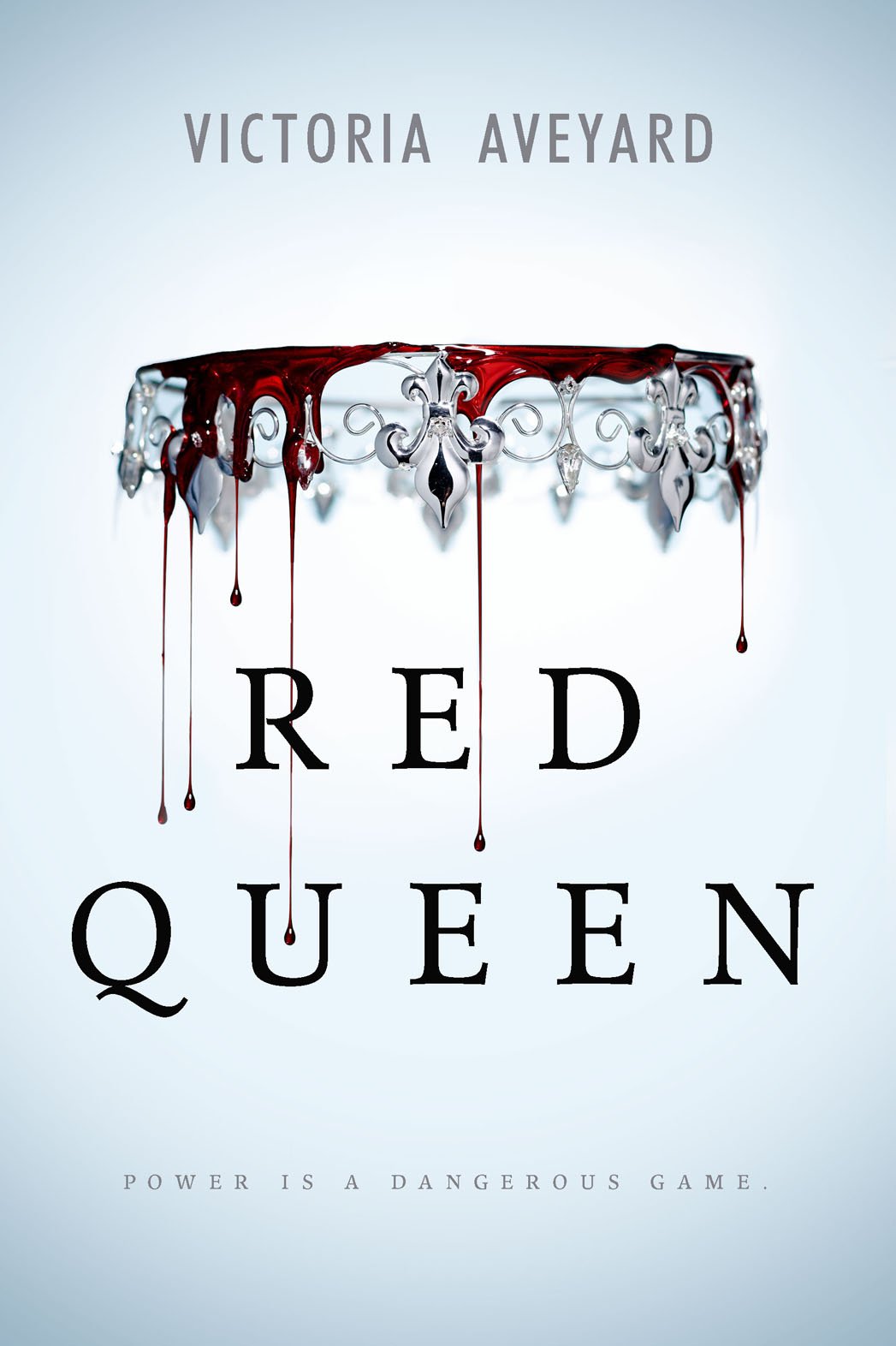 S – The Silence of the Lambs by Thomas Harris
The Silence of the Lambs, by Thomas Harris, is even better than the successful movie. Like his earlier Red Dragon, the book takes us inside the world of professional criminal investigation. All the elements of a well-executed thriller are working here–driving suspense, compelling characters, inside information, publicity-hungry bureaucrats thwarting the search, and the clock ticking relentlessly down toward the death of another young woman. What enriches this well-told tale is the opportunity to live inside the minds of both the crime fighters and the criminals as each struggles in a prison of pain and seeks, sometimes violently, relief.
Clarice Starling, a precociously self-disciplined FBI trainee, is dispatched by her boss, Section Chief Jack Crawford, the FBI's most successful tracker of serial killers, to see whether she can learn anything useful from Dr. Hannibal Lecter. Lecter's a gifted psychopath whose nickname is "The Cannibal" because he likes to eat parts of his victims. Isolated by his crimes from all physical contact with the human race, he plays an enigmatic game of "Clue" with Starling, providing her with snippets of data that, if she is smart enough, will lead her to the criminal. Undaunted, she goes where the data takes her. As the tension mounts and the bureaucracy thwarts Starling at every turn, Crawford tells her, "Keep the information and freeze the feelings." Insulted, betrayed, and humiliated, Starling struggles to focus. If she can understand Lecter's final, ambiguous scrawl, she can find the killer. But can she figure it out in time? –Barbara Schlieper

T – Tomorrow, When the War Began by John Marsden
When Ellie and her friends return from a camping trip in the Australian bush, they find things hideously wrong — their families are gone. Gradually they begin to comprehend that their country has been invaded and everyone in their town has been taken prisoner. As the reality of the situation hits them, they must make a decision — run and hide, give themselves up and be with their families, or fight back.

U – Uglies by Scott Westerfeld
Tally is about to turn sixteen, and she can't wait. In just a few weeks she'll have the operation that will turn her from a repellent ugly into a stunning pretty. And as a pretty, she'll be catapulted into a high-tech paradise where her only job is to have fun.
But Tally's new friend Shay isn't sure she wants to become a pretty. When Shay runs away, Tally learns about a whole new side of the pretty world– and it isn't very pretty. The authorities offer Tally a choice: find her friend and turn her in, or never turn pretty at all. Tally's choice will change her world forever…

V – Vampire Academy by Richelle Mead
Only a true best friend can protect you from your immortal enemies . . .
Lissa Dragomir is a Moroi princess: a mortal vampire with a rare gift for harnessing the earth's magic. She must be protected at all times from Strigoi; the fiercest vampires – the ones who never die. The powerful blend of human and vampire blood that flows through Rose Hathaway, Lissa's best friend, makes her a dhampir. Rose is dedicated to a dangerous life of protecting Lissa from the Strigoi, who are hell-bent on making Lissa one of them.
After two years of freedom, Rose and Lissa are caught and dragged back to St. Vladimir's Academy, a school for vampire royalty and their guardians-to-be, hidden in the deep forests of Montana. But inside the iron gates, life is even more fraught with danger . . . and the Strigoi are always close by.
Rose and Lissa must navigate their dangerous world, confront the temptations of forbidden love, and never once let their guard down, lest the evil undead make Lissa one of them forever . . .

W – We Were Liars by E. Lockhart
A beautiful and distinguished family.
A private island.
A brilliant, damaged girl; a passionate, political boy.
A group of four friends—the Liars—whose friendship turns destructive.
A revolution. An accident. A secret.
Lies upon lies.
True love.
The truth.
We Were Liars is a modern, sophisticated suspense novel from National Book Award finalist and Printz Award honoree E. Lockhart.
Read it.
And if anyone asks you how it ends, just LIE.

X – X Isle by Steve Augarde
Ever since the floods came and washed the world away, survivors have been desperate to win a place on X-Isle, the island where life is rumoured to be easier than on what's left of the mainland. Only young boys are in with a chance, the smaller and lighter the better.
Baz and Ray are two of the lucky few to be chosen, but they soon discover that X-Isle is a far cry from paradise. Ruled by Preacher John, a dangerous religious fanatic, it's a violent, unpredictable place where terrible things can happen at any moment.
The boys hatch an extraordinary plan in order to protect themselves – the construction of a mighty weapon of defence. But can they complete this weapon in time, and are they really prepared to use it in order to secure their freedom?
Powerful and compelling, X-ISLE is a fast-moving thriller that will keep you guessing right to the very end.

Y – A Year in Provence by Peter Mayle
In this witty and warm-hearted account, Peter Mayle tells what it is like to realize a long-cherished dream and actually move into a 200-year-old stone farmhouse in the remote country of the Lubéron with his wife and two large dogs. He endures January's frosty mistral as it comes howling down the Rhône Valley, discovers the secrets of goat racing through the middle of town, and delights in the glorious regional cuisine. A Year in Provence transports us into all the earthy pleasures of Provençal life and lets us live vicariously at a tempo governed by seasons, not by days.

Z – The Zero by Jess Walter
What's left of a place when you take the ground away?
Answer: The Zero.
Brian Remy has no idea how he got here. It's been only five days since his city was attacked, and Remy is experiencing gaps in his life–as if he were a stone skipping across water. He has a self-inflicted gunshot wound he doesn't remember inflicting. His son wears a black armband and refuses to acknowledge that Remy is still alive. He seems to be going blind. He has a beautiful new girlfriend whose name he doesn't know. And his old partner in the police department, who may well be the only person crazier than Remy, has just gotten his picture on a box of First Responder cereal.
And these are the good things in Brian Remy's life. While smoke still hangs over the city, Remy is recruited by a mysterious government agency that is assigned to gather all of the paper that was scattered in the attacks. As he slowly begins to realize that he's working for a shadowy operation, Remy stumbles across a dangerous plot, and soon realizes he's got to track down the most elusive target of them all–himself. And the only way to do that is to return to that place where everything started falling apart.

Which book from the list above looks most interesting to you?