I've done books and horror movies, now it's time for tv shows! Here is an a-z list of tv show recommendations! If you don't understand how these posts work or you haven't seen my other posts, check out my A-Z Lists for more information!
Again, the tv show synopsis' have been taken off IMDB because I suck at reviewing things.
Note: I'll be excluding "a" and "the" from these titles as well!
# – The 100 (2014-Present)
Set 97 years after a nuclear war has destroyed civilization, when a spaceship housing humanity's lone survivors sends 100 juvenile delinquents back to Earth in hopes of possibly re-populating the planet.

A – American Horror Story (2011-Present)
An anthology series that centers on different characters and locations, including a house with a murderous past, an insane asylum, a witch coven, a freak show, and an enigmatic hotel.

B – Bones (2005 –Present)
A forensic anthropologist and a cocky FBI agent build a team to investigate death causes. And quite often, there isn't more to examine than rotten flesh or mere bones.

C – Criminal Minds (2005-Present)
The cases of the FBI Behavioral Analysis Unit (BAU), an elite group of profilers who analyze the nation's most dangerous serial killers and individual heinous crimes in an effort to anticipate their next moves before they strike again.

D – Doctor Who (2005-Present)
The further adventures of the time traveling alien adventurer and his companions.

E – The Ellen DeGeneres Show (2003-Present)
A mix of celebrity interviews, musical performers, audience participation games, and segments spotlighting real people with extraordinary stories and talents, hosted by comedienne Ellen DeGeneres.

F – Friends (1994-2004)
Follows the lives of six 20-something friends living in Manhattan.

G – Game Of Thrones (2011-Present)
While a civil war brews between several noble families in Westeros, the children of the former rulers of the land attempt to rise up to power. Meanwhile a forgotten race, bent on destruction, return after thousands of years in the North.

H – How I Met Your Mother (2005-2014)
A father recounts to his children, through a series of flashbacks, the journey he and his four best friends took leading up to him meeting their mother.

I – The Inbetweeners (2008-2010)
Follows four friends and their antics during their final years of school.

J – Jessica Jones (2015-Present)
A former superhero decides to reboot her life by becoming a private investigator.

K – The King Of Queens (1998-2007)
Delivery man Doug Heffernan has a good life: He's got a pretty wife (Carrie), a big TV and friends to watch it with. Then Carrie's goofy and annoying father Arthur moves in with them.

L – Law & Order: Special Victims Unit (1999-Present)
This show introduces the Special Victims Unit, a new elite squad of NYPD detectives who investigate sexually related crimes.

M – McLeod's Daughters (2001-2009)
Claire and Tess are half-sisters who are separated when Tess' mom leaves their father, Jack, when the girls are little. Twenty years later, Jack is dead and Claire is struggling to run the ranch on her own. Tess, now aliented from Claire, returns because she needs a place to stay. But she's soon drafted to help her older sibling and the other women running the ranch: housekeeper Meg, her daughter Jodi, local resident Becky and later, friends Stevie and Kate.
(I used Wikipedia's synopsis because it was more detailed than the IMDB's)

N – New Girl (2011-Present)
After a bad break-up, Jess, an offbeat young woman, moves into an apartment loft with three single men. Although they find her behavior very unusual, the men support her – most of the time.

O – Once Upon A Time (2011-Present)
A young woman with a troubled past is drawn to a small town in Maine where fairy tales are to be believed.

P – Pretty Little Liars (2010-Present)
Four friends band together against an anonymous foe who threatens to reveal their darkest secrets, while unraveling the mystery of the murder of their best friend.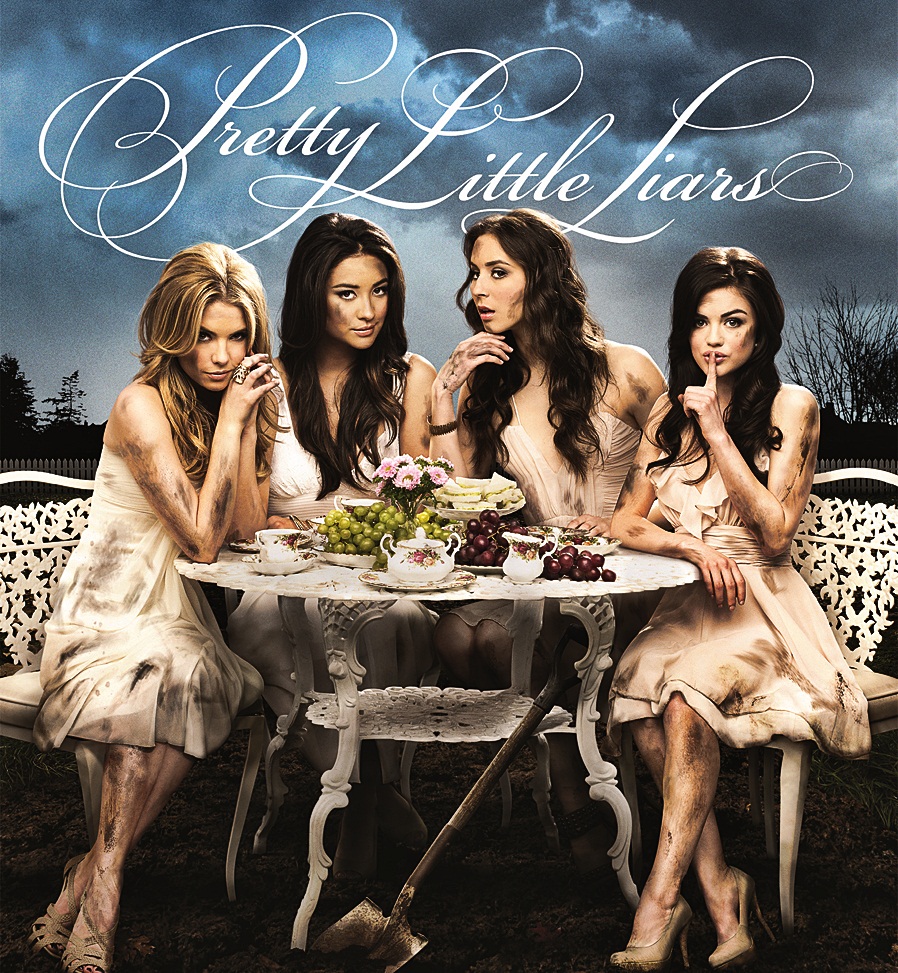 Q – Quantico (2015-Present)
A look at the lives of young FBI recruits training at the Quantico base in Virginia when one of them is suspected of being a sleeper terrorist.

R – Revenge (2011-2015)
An emotionally troubled young woman makes it her mission to exact revenge against the people who wronged her father.

S – Skins (2007-2013)
The story of a group of British teens who are trying to grow up and find love and happiness despite questionable parenting and teachers who more want to be friends (and lovers) rather than authority figures.

T – Teen Wolf (2011-Present)
A somewhat awkward teen is attacked by a werewolf and inherits the curse himself, as well as the enemies that come with it.

V – The Vampire Diaries (2009-Present)
A teenage girl is torn between two vampire brothers.

W – Weeds (2005-2012)
When a suburban mother turns to dealing marijuana in order to maintain her privileged lifestyle after her husband dies, she finds out just how addicted her entire neighborhood already is.

X – The X-Files (1993-Present)
Two FBI agents, Fox Mulder the believer and Dana Scully the skeptic, investigate the strange and unexplained while hidden forces work to impede their efforts.

Y – The Young Ones (1982-1984)
The crazy and sometimes surreal comedic adventures of four very different students in Thatcher's Britain.

Z – Z Nation (2014-Present)
Three years after the zombie virus has gutted the United States of America a team of everyday heroes must transport the only known survivor of the plague from New York to California, where the last functioning viral lab waits for his blood.

How many of tv shows off this list have you seen?