Halloweek day two! All about Halloween themes novels.
This post is similar to my firs Halloweek post, I will be listing a bunch of Halloween themed novels. Some of these novels aren't necessarily going to be horror/thriller!
Note: The book synopsis' have been taken from Goodreads!
The Halloween Tree by Ray Bradbury
"A fast-moving, eerie…tale set on Halloween night. Eight costumed boys running to meet their friend Pipkin at the haunted house outside town encounter instead the huge and cadaverous Mr. Moundshroud. As Pipkin scrambles to join them, he is swept away by a dark Something, and Moundshroud leads the boys on the tail of a kite through time and space to search the past for their friend and the meaning of Halloween. After witnessing a funeral procession in ancient Egypt, cavemen discovering fire, Druid rites, the persecution of witches in the Dark Ages, and the gargoyles of Notre Dame, they catch up with the elusive Pipkin in the catacombs of Mexico, where each boy gives one year from the end of his life to save Pipkin's. Enhanced by appropriately haunting black-and-white drawings."–Booklist

Room on the Broom by Julia Donaldson & Axel Scheffler
This was one of my favourite picture books as a child. 
The witch and her cat are happily flying through the sky on a broomstick when the wind picks up and blows away the witch's hat, then her bow, and then her wand! Luckily, three helpful animals find the missing items, and all they want in return is a ride on the broom. But is there room on the broom for so many friends? And when disaster strikes, will they be able to save the witch from a hungry dragon?

Dark Harvest by Norman Partridge
Winner of the Bram Stoker Award and named one of the 100 Best Novels of 2006 by Publishers Weekly, Dark Harvest by Norman Patridge is a powerhouse thrill-ride with all the resonance of Shirley Jackson's "The Lottery."
Halloween, 1963. They call him the October Boy, or Ol' Hacksaw Face, or Sawtooth Jack. Whatever the name, everybody in this small Midwestern town knows who he is. How he rises from the cornfields every Halloween, a butcher knife in his hand, and makes his way toward town, where gangs of teenage boys eagerly await their chance to confront the legendary nightmare. Both the hunter and the hunted, the October Boy is the prize in an annual rite of life and death.
Pete McCormick knows that killing the October Boy is his one chance to escape a dead-end future in this one-horse town. He's willing to risk everything, including his life, to be a winner for once. But before the night is over, Pete will look into the saw-toothed face of horror–and discover the terrifying true secret of the October Boy . . .
"This is contemporary American writing at its finest."–Publishers Weekly (starred review) on Dark Harvest

Halloween edited by Paula Guran
Shivers and spirits… the mystical and macabre… our darkest fears and sweetest fantasies… the fun and frivolity of tricks, treats, festivities, and masquerades. Halloween is a holiday filled with both delight and dread, beloved by youngsters and adults alike. Celebrate the most magical season of the year with this sensational treasury of seasonal tales – spooky, suspenseful, terrifying, or teasing – harvested from a multitude of master storytellers.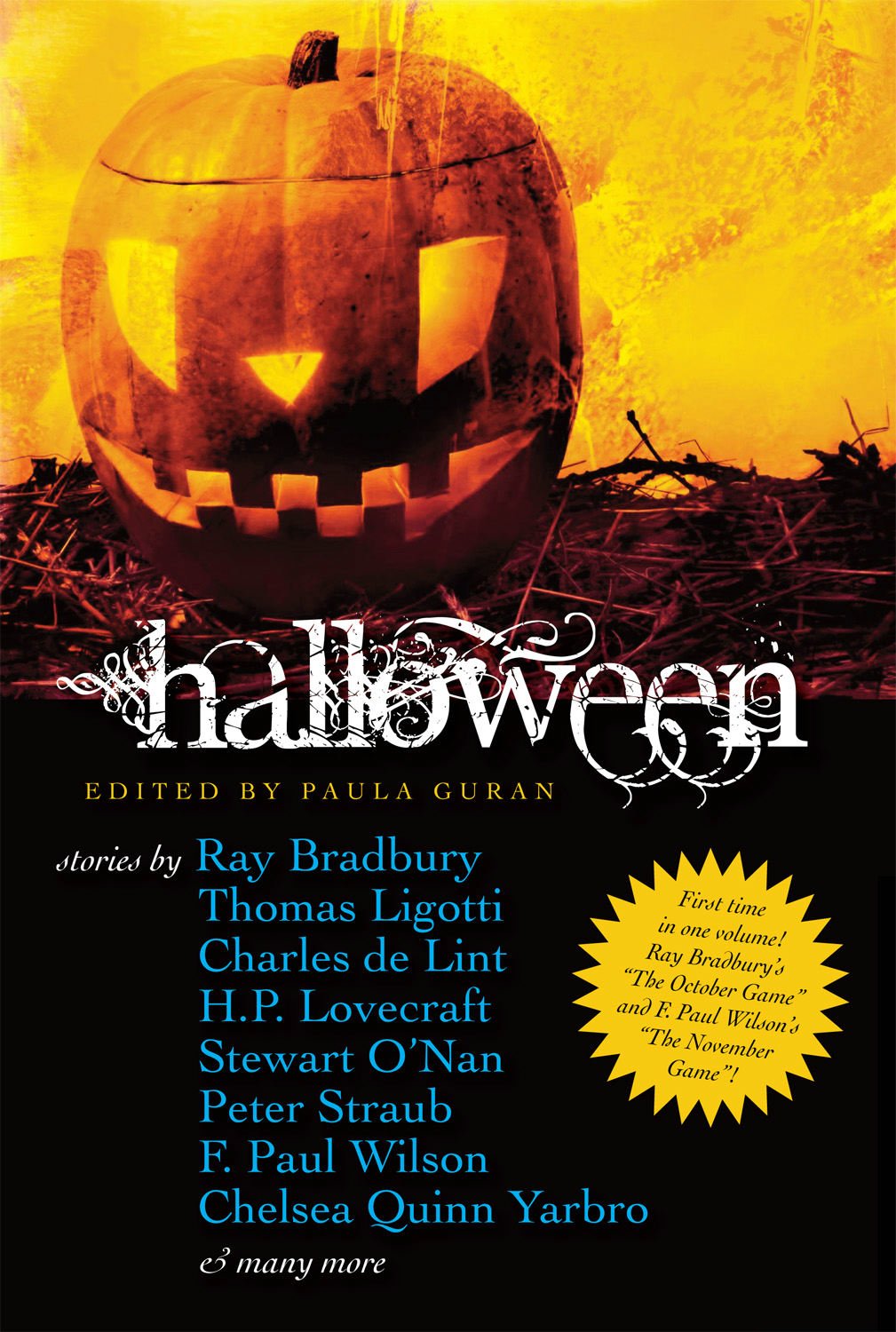 Halloween Night by R.L. Stine
Brenda hates her cousin Halley. And Brenda isn't the only one. Because Halley keeps stealing other people's boyfriends. So Brenda and her friends decide to plan the perfect murder. Something to go along with Brenda's perfect Halloween party.
Not that they're really going to kill anybody. It's just a joke.
Right?
Ha. Ha.

The Gates by John Connolly
Young Samuel Johnson and his dachshund, Boswell, are trying to show initiative by trick-or-treating a full three days before Halloween which is how they come to witness strange goings-on at 666 Crowley Road. The Abernathys don't mean any harm by their flirtation with the underworld, but when they unknowingly call forth Satan himself, they create a gap in the universe. A gap in which a pair of enormous gates is visible. The gates to Hell. And there are some pretty terrifying beings just itching to get out…
Can one small boy defeat evil? Can he harness the power of science, faith, and love to save the world as we know it?
Bursting with imagination, The Gates is about the pull between good and evil, physics and fantasy. It is about a quirky and eccentric boy who is impossible not to love, and the unlikely cast of characters who give him the strength to stand up to a demonic power.
John Connolly manages to re-create the magical and scary world of childhood that we've all left behind but so love to visit. And for those of you who thought you knew everything you could about particle physics and the universe, think again. This novel makes anything seem possible.

Night in the Lonesome October by Richard Laymon
Ed Logan is 20 years old and a sophomore at Willmington University. He's also been dumped by his girlfriend. Lonesome and broken-hearted, he goes for a late-night walk. He doesn't know where he's headed. He doesn't know what he's going to do when he gets there. And he has absolutely no idea of the strange people he is about to meet. Like Casey, the athletic blonde who roams the streets as if she's on a mission. And then there's Randy, who's definitely on a mission – to make Ed's life hell. And then there's the others. Not exactly people. And very definitely not friendly. If Ed's not careful, he's not going to make it home at all…

Something Wicked This Way Comes by Ray Bradbury
A carnival rolls in sometime after the midnight hour on a chill Midwestern October eve, ushering in Halloween a week before its time. A calliope's shrill siren song beckons to all with a seductive promise of dreams and youth regained. In this season of dying, Cooger & Dark's Pandemonium Shadow Show has come to Green Town, Illinois, to destroy every life touched by its strange and sinister mystery. And two inquisitive boys standing precariously on the brink of adulthood will soon discover the secret of the satanic raree-show's smoke, mazes, and mirrors, as they learn all too well the heavy cost of wishes – and the stuff of nightmare.

October Dreams: A Celebration of Halloween edited by Richard Chizmar
Classic novellas, never-before-published stories, essays on the history, literature, and films of Halloween, and real-life memories of October 31st-from today's best practitioners of fear:Dean Koontz * Peter Straub * Poppy Z. Brite * Rick Hautala * Steve Rasnic Tem * Elizabeth Engstrom * Thomas Ligotti * Gary A. Braunbeck * Jack Ketchum * Thomas F. Monteleone * Hugh B. Cave * Simon Clark * Christopher Golden * Ray Bradbury * Jack Ketchum * Alan M. Clark * Gahan Wilson * Paula Guran * John Shirley * Tom Piccirilli * Jack Cady * David B. Silva * Robert Morrish * William F. Nolan * Michael Cadnum * Richard Laymon * Douglas Clegg * Douglas E. Winter * Stanley Wiater * Caitlín R. Kiernan * Lewis Shiner * Yvonne Navarro * Tim Lebbon * Kim Newman * F. Paul Wilson * Owl Goingback * Dennis Etchison * Stephen Mark Rainey * Charles L. Grant * Kelly Laymon * Dominick Cancilla * Kristine Kathryn Rusch * Michael Marshall Smith * Wayne Allen Sallee * Ramsey Campbell * Ed Gorman * Stefan Dziemianowicz * Peter Crowther

The Night Country by Stewart O'Nan
At Midnight on Halloween in a cloistered New England suburb, a car carrying five teenagers leaves a winding road and slams into a tree, killing three of them. One escapes unharmed, another suffers severe brain damage. A year later, summoned by the memories of those closest to them, the three that died come back on a last chilling mission among the living.
A strange and unsettling ghost story in the tradition of Ray Bradbury and Shirley Jackson, "The Night Country" creeps through the leaf-strewn streets and quiet cul-de-sacs of one bedroom community, reaching into the desperately connected yet isolated lives of three people changed forever by the accident: Tim, who survived yet lost everything; Brooks, the cop whose guilty secret has destroyed his life; and Kyle's mom, trying to love the new son the doctors returned to her. As the day wanes and darkness falls, one of them puts a terrible plan into effect, and they find themselves caught in a collision of need and desire, watched over by the knowing ghosts.

What's your favourite Halloween themed book?
🎃 👻